9 oktober, 2016
Don't tell the groom *** (*)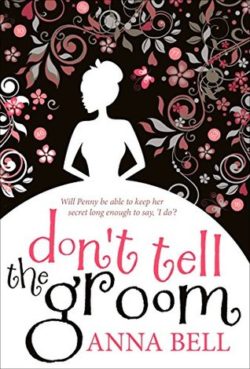 Posted in :
Reviews in english
on
by :
Lotte
Tags:
3.5 stars
,
Anna Bell
,
chick lit
,
funny
"Every woman should feel like a princess on her wedding day; It's practically a law"
Once in a while, I buy a book simply based on the cover – and this is one of these books (Just admit it – you have done it too :-)). And once in a while, all you need is a true chick lit; a light, fluffy read to leave you smiling – and this is it.
Penny is getting married (well, she will be once Mark proposes), and to get her dream wedding she is going to add to the wedding fund by playing online bingo – which doesn't exactly go as as planned. Horrified to discover that she spend a lot more than she thought, Penny now has to find a way to plan the perfect wedding – on a budget and without the groom finding out.
We now follow Penny through a funny, enjoyable and romantic travel around dresses, locations, invitations and weddings, where creativity and resources are of the essential.
The book is not just another romantic comedy, but also a story about what is really important in life, addictions, owning up to your problems and doing what it takes to make things right.
Anna Bell makes the words and story flow easily, and you can not help falling in love with the characters – this book is perfect for both a beach read or curling up on a rainy day.